Post by skyhook on Jun 1, 2009 17:58:01 GMT 1
Where to start ? Day one, up early and all set for off, so left early than planed.
Run through London at 1:45 am was nice and quiet and no probs what so ever, Cruise down A2 to Dover no probs, just a bit cold at that time in morning,Got on a early boat than planed as we had booked 4:55 am boat for £12:50 which I thought was a good price, Booked on line.
Sailing over no probs, can you see where I am going with this ??
off the other side nice and early and then we are off for about 25 miles and our first stop of the day for a bite to eat and a cup of tea. Weather was bright and sunny and getting warmer by the minute, we still dressed for the British weather ( this we will pay for later in the day )
About 100 miles from Paris our troubles started and would last for two and a half days, AuNTVy started well until and overheat and spilled all her coolant beside motorway,Sensor switch did not cut in, so there we are on side of motorway, no water and no coolant ( planed for almost everything, But this ) so after cutting some wire of one horn I rigged the fan to come on with ign, and let her cool down a bit and off we set to find a service station and some water.
All toped up and cooled down we set of again, only to find she was running VERY HOT, next service station out she pumps again, more water on floor, not looking to good at this point.
So top up again wait for her to cool down and off we go again.
YEP you got it 25 miles later and still running hot, so this time tank off and top up rad and bottle, then off again time is marching on and now we are way behind, so with my mind on watching temp gauge we enter outskirts of Paris only to find the sat nav sent me the wrong way into Paris, No probs thinks me it should get us through ( teach me to listen to a female voice who THINKS she knows the way..lol )
So 5 hours later after turning of sat nav and finding my own way out of Paris with a over heating bike we limp on stooping every service station and tempers getting a bit over heated as well, we find our selfs way behind schedule and looking for our fist night camping with hopefully enough time to sort out bike. ( how wrong was I )
About 8 pm we stop to fuel up again and let her cool down ( both of them.....lol ) me thinking I had a Britte idea decided to remover oil filler and let her breath some cool air, while we made yet another cup of tea, so sitting there a group of bikers came in, me in my wisdom decided to ride over to them and try and explain my prob with getting coolant as me reading French is not good to say the least, well I made myself understood and managed to get a 2 .5 bottle of coolant and was all set to camp up and of with the tank again and top up rad with coolant.
( Remember my brite idear ?? ) Well I did not and after topping up water bottle on bike, Jan me other half ask " whats all the stuff up your right leg ?? " Yep you got it Brit spark here forgot to screw down oil fill, so with about an ounce of oil up me leg, I then had to check the oil, which was not as bad as I thought. ( Great first day what )
SO into camp site after a long search we camp up around 9 pm and after a bite to eat and a cpl beers, I though I would sort bike out tomorrow. So not allot of pics for first day as had other things on me mind, But got 1 or 2 and lets pray for some rain tomorrow to help keep bike cool ?
By the way for anyone thinking of useing the moterway to Paris, DONT it bloody cost a bomb, almost 12 euro for a bike ??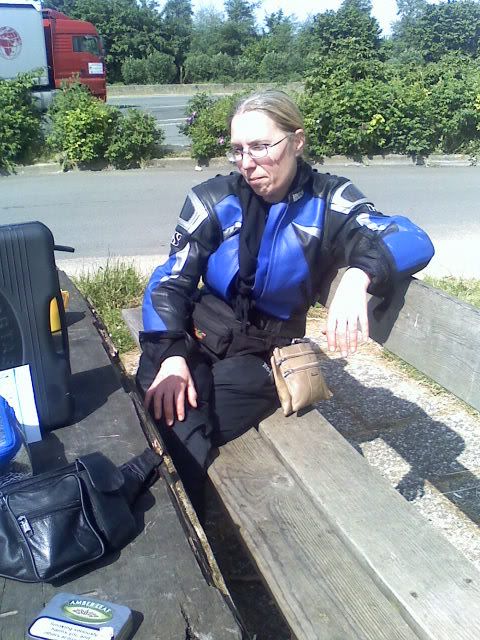 Jan on one of our many tea, cool down stops, Not a happy bunny. And getting warmer by the min.
Me topping up with water, and more tea........lol and me feet getting an airring....lol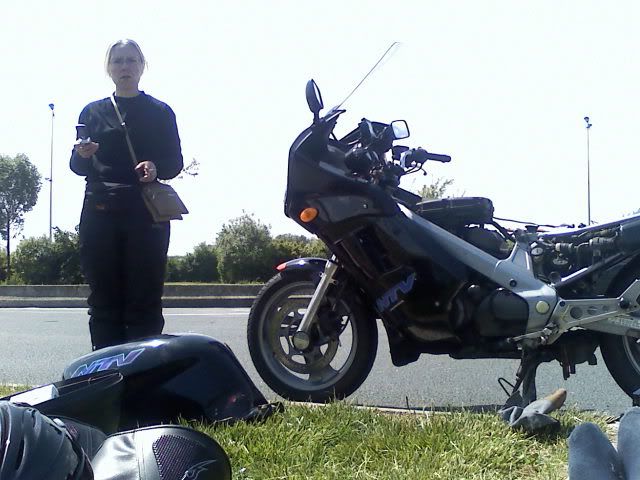 Jan asking why I aint working on bike to fix problem...........lol
No rest for the wicked........lol
At our first night camp site, middle of no where and beyond.....lol
But a very nice camp site, cost almost 20 euro.